Credits

Device

Mi 6

Online time

1449 Hours

Send PM
This post was edited by CLAYTON_WWC at 19:49, Oct-17-2017

Greeting MIUIers!

Welcome back to sixth series of ITechkySpot! Hope you guys have a nice day! Durability is one the important factor when we consider to buy a smartphone, not just the performance. Why it is important? For example, if your phone has a plastic screen, it will be scratch by normal metal object. So it is important. Luckily, nowadays smartphone has uses glass protection for the screen such as Corning Gorilla Glass which is widely used. So what is glass protection, we will find it out now!





What is Glass Protection? Glass Protection, is a strengthen glass primarily coated on top of the screen as cover glass for protection. It is designed to be scratch resistant, damage resistant and flexible to withstand the damage in normal use. This will increase the durability of the phone so the screen won't crack and break easily. There are many types of glass protection, such as Corning Gorilla Glass, Sapphire Glass and Ceramic which are used in current smarphone. Let's dicuss about it.





Gorilla Glass is a famous brand of reinforced glass manufactured by Corning. What makes it so strong? It is an alkali-aluminosilicate sheet immersed in hot potassium ion exchange bath. Not going explain how it manufactured in factory because it is a very long process. This type of glass is stronger than normal glass because of its scratch resistant and damage resistant. That's the reason why it is used by smartphone OEM for their phones.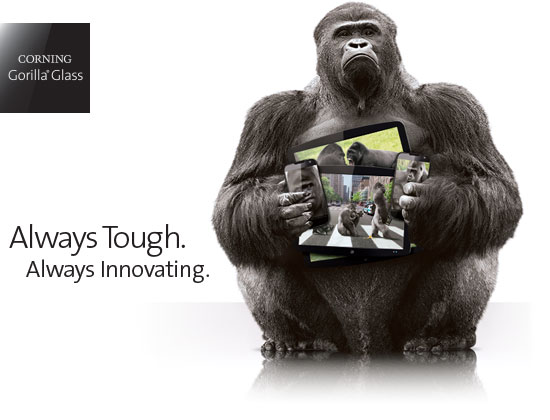 Be clear that Gorilla glass are scratch resistant glasses, and not totally scratch proof. There is a huge contrast between these two terms, resistant and proof. Resistant means an object has resistance to withstand something to a limit, just like our Immune system. On the other hand, proof means that they almost offer unlimited resistance and cannot be infiltrate such as waterproof



Back to the square, this glass can withstand scratches or damage to a certain point. Based on mohs scale, usually Gorilla glass can withstand until lvl6 Mohs scale, that means keys can coins does no damage at all.



Dragontrail VS Corning gorilla! The battle between these two glass manufacturers has been going on, just like AMD VS Nvidia. Based on popularity, clearly seen that Corning Gorilla glass are widely used in Big boy flagship phone such as HTC U11 and Samsung Galaxy S8. Meanwhile Dragontrail Glasses are used in Redmi and Oppo phones according to some sources. It is proves that 'The age of planet of the apes' has risen, errrrr..... I mean gorilla while the dragon is still hidden in the Erebor Castle, still not unleash yet.



Advantage of Gorilla Glass



The most obvious is the damage and scratch resistant, usually we put our keys inside our pocket which will damage the screen of the phone, with gorilla glass, this is not an issue at all.

Prevent the screen glass to be broken when drop it to the floor. If you have a slippery hand, yep, this glass protection is needed.

Disadvantages of Gorilla glass



This is not a significant con in gorilla glass since every glass has this issue if you have oily skin, it will affect the screen clarity.

Brittle



Sapphire is one of the gemstone and can be called as transparent crystal. It is regularly used in jewellery such as rings, earrings, or crowns. A pure sapphire is very hard to obtained, to overcome this issue, synthetic sapphire is the solution. In general, synthetic sapphire is manufactured by heating with high temperature and high pressure until it turns into aluminum oxide powder (sapphire is, after all, just a compound of aluminum and oxygen). Synthetic sapphire is referred to as sapphire glass.



The sapphire glass is highly transparent, so definitely it won't affect the clarity of the screen. Sapphire glass is very very durable, it is more double of hardness of the normal screen. It scores lvl 8-9 in mohs scale which is close to the hardness of diamond. Impressive. Not everything is perfect, sapphire glass shatters more easily than other type of glasses.



Usually smartphone are protected by corning gorilla glass, there is only few smartphone which is using this ultra premium material - Sapphire glass as screen protection, such as HTC U Ultra.

Advantages of Sapphire glass
Very very strong, it won't be easily scratched due to its hardness.
Highly transparent, ideal for used in smartphones

Disadvantages of Sapphire glass
Easily shattered when direct hit by hard object.
Expensive to manufacture
Heavier than normal glass



Sapphire VS Gorilla
This is one of the hot topic to discuss, which is the sapphire glass VS Gorilla glass. Many people has compare the hardness of sapphire glass with gorilla glass. Yep, it is true, it is harder, stronger and even higher transparency, these factors above surely send Gorilla Glass to the corner, but why it is not widely seen in smartphones market? Well, It's super expensive.



Based on Corning's Estimation, production of Sapphire costs ten times expensive than Gorilla Glass, a wild estimation, but even half of it, still consider expensive. You probably won't buy a smarphone with Sapphire glass for $1000 which has same hardware component as smarphone with gorilla glass which cost $700. Generally, Gorilla glass is enough to withstand for normal use, unless you love tough expedition like climbing mountain or working in a construction area.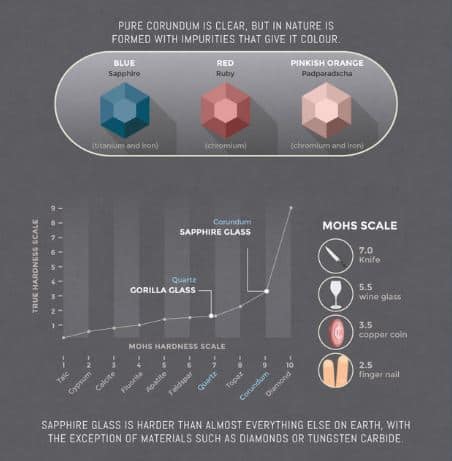 Moreover, Sapphire glass also 67 percent heavier than Gorilla Glass—with a density of 3.97 grams/cm3 compared to the 2.42 g/cm3. That means that to match it gram-for-gram, a screen made of sapphire would need to be rather thinner. Making it thinner actually making it more vulnerable, just because it's hard and strong doesn't mean that it's unbreakable. While the fracture toughness of sapphire is theoretically around four times greater than Gorilla Glass.



Conclusion, Sapphire glass is more stronger and harder than Gorilla Glass can't denied the truth, but when it comes to cost, I still prefer Corning Gorilla glass due to its low manufacture cost. Different user has different opinion, some people still prefer sapphire glass for its hardness.




Ceramic is defined as inorganic nonmetallic material which are hardened at high temperatures. Mostly ceramics are opaque except glass. Raw materials to made ceramics are Silica, Clay, Limestone, Magnesia, Alumina, Borates, Zirconia. Ceramic is shock resistant, high strength, abrasion resistant material. Due to manufacturing processes, ceramic is a little more expensive than glass.
In Mi MIX, it uses the brand new of ceramic which is microcrystal zirconium oxide ceramic – a material that is difficult to manufacture. It is very strong and hard close to Sapphire, but it has a deadly weakness: it's fragile.



The manufacturing technology is extremely advanced and high cost, it required 16 processes to produce microcrystal zirconium oxide ceramic from tape casting, punch forming, dumping and sintering, vacuum black, setting, CNC machining, front polish, edge polish, laser drilling, CNC finish machining, cleaning, checking, laser etching, plating fingerprint-proof membrane, second checking, and packing and shipment.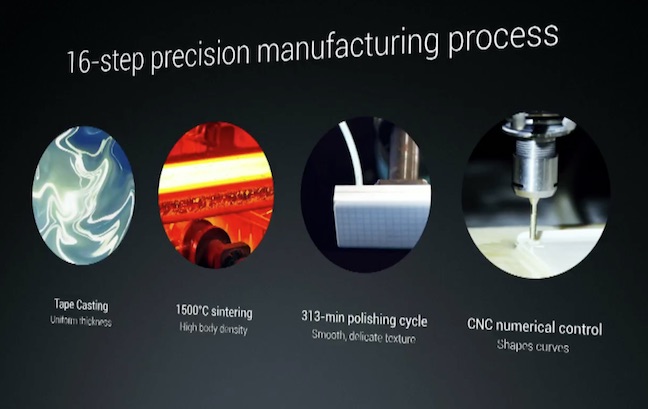 This causes very low product yields and production efficiency, so you will see Xiaomi Mi MIX Ceramic version out of stock frequently. Compared with glass, the cost of the ceramic on Xiaomi's smartphone is 75% more expensive, with much stronger hardness and scratch resistant ability.


Advantages of Ceramic



Rated lvl 8 based on Mohs Hardness Scale, close to diamond and sapphire, harder than Gorilla glass.
Scratch Resistant ability is so high that only diamonds and sapphire can scratch it

Disadvantages of Ceramic



Brittle and low impact resistant
Low production due to many processes needed to manufacture

In terms of hardness, Sapphire is the strongest compare to Ceramic and Corning Gorilla Glass. Despite, Corning Gorilla Glass is weaker compare to Sapphire and Ceramic, but still I will choose Corning Gorilla Glass because of its low cost and high production. Ceramic and Sapphire requires high cost and many processes to manufacture which will decrease the production yield, that's the reason why Xiaomi Ceramic Phone take long time to restock. So what's your choice? Which type of glass protection do you prefer? Choose your option in the poll! Peace!






Rated by 13 people

Experience Prestige
Reason
Experience +94 Prestige +22 View Rating Log