This post was edited by CLAYTON_WWC at 11:03, Jan-31-2018
Exynos 8895 Vs Snapdragon 835
Greetings MIUIers
Hey guys!! I am back!! Hope you guys had a nice day! Qualcomm Snapdragon 835 is a product of Samsung and Qualcomm where they join venture to manufacture it. However, Samsung decided to launch its in-house SoC which is Exynos 8895, a rival of Snapdragon 835. Both of the SoC are top tier SoC, their performance is close call battle. So let's us make a comparison, Exynos 8895 vs Snapdragon 835. In other words, you can say Samsung Galaxy S8 US/China version versus Samsung Galaxy S8 EMEA version. Hope you guys enjoy it!!
I am sure everyone heard about Qualcomm SoCs, it is very famous throughout the world and many Smartphone Companies such as Samsung, Huawei, One Plus, Xiaomi and many more had used Qualcomm SoC as the processor of the smartphones. FYI, Qualcomm is an American Semi-Conductor Company which is located in San Diego, California. It has become the leading Smartphone SoC(CPU+GPU+Modem+Board = System on Chip) supplier, credit to their superior X-series modems and Adreno GPUs. Best Qualcomm chips such as Snapdragon 800/801 and 820/821 which are widely used in Flagship Phones.
Snapdragon chips have good battery life, heat management, multitasking and gaming performance, however, the company had a bad time with the awful Snapdragon 810 and 615 chips that bring a lot of issue such as overheating, battery and performance issues, proved that no matter how good the company is, they can still manufacture a bad chip.
Recently, Snapdragon 835 is the latest flagship chip and kickoff with the Samsung S8.Qualcomm are targeting to wipe out all the competitor by introducing the new Octa-Core architecture(4xKryo 280+4xA53 CPU cores), 10nm and a 1Gbit+ LTE modem.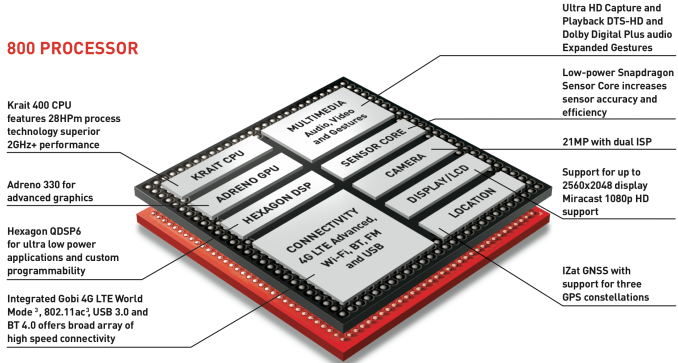 (Snapdragon 800, one of the best Qualcomm SoCs produced)
On the other hand, Exynos is a series of ARM-based System-on-Chips (SoCs) developed and manufactured by Samsung Electronics and is a sequel of Samsung's earlier S3C, S5L and S5P line of SoCs. In 2009, Samsung launched the S5PC110 (now known as Exynos 3 Single) in its Samsung Galaxy S mobile phone, which featured a licensed ARM Cortex-A8 CPU.
Exynos 8895 is an effort for Samsung to compete with Qualcomm Snapdragon 835, using the new generation custom Cores for performance coupled with A 53 cores for efficiency while packing Mali GPU G71 MP20, 10nm and a much better modem.
(Timeline of Exynos SoCs)
Qulacomm Snapdragon 835 consist of four performance semi custom Kryo 280 cores with clocked speed up to 2.45 GHz and four efficiency Kryo 280 cores running at up to 1.9 GHz.
This type of configuration means that tasks will be optimized for the appropriate core and hopefully result in optimized power savings. This setup is similar to what Qualcomm did with the Snapdragon 810 and what Apple is doing with the A10 Fusion quad-core chip.
Here's the score of Snapdragon 835 in Geekbench
Samsung Exynos 8895 is packed with 4 Samsung M2 custon cores, the clock speed will be 2.5GHz, which is very important for single-threaded performance. The second generation custom CPU core delivers enhanced performance and energy efficiency through improved IP and architectural design. More over, the second combination is consist of 4xA53 efficiency Cores with clocked speed up to 1.7GHz.
The score is close call, Snapdragon 835 tend to have lower score in multi thread compare to Exynos 8895*but Qualcomm Snapdragon 835 has higher score in Single thread. Benchmark score is just a paper reference, the performance of the phone still relies on our own usage so we can't judge the phone performance by just looking at the benchmark score.
10nm technology allows up to a 30% increase in area efficiency with 27% higher performance or up to 40% lower power consumption. Using 10nm, FinFet, the Both Snapdragon 835 and Exynos 8895 processor will offer a smaller chip footprint, giving OEMs more usable space inside upcoming products to support larger batteries or slimmer designs. Process improvements, combined with a more advanced chip design, are expected to bring significant improvements in battery life.
Samsung Exynos 8895
The most important factors of Snapdragon chips is 3D/Gaming efficiency, and that's all because of the first class Adreno graphics. Adreno 540 seems to be to constructed based on the predecessor Adreno 530 from Snadpragon 820/821, which will delivering 20-30% extra efficiency compare to older version.
One other vital space that may profit from Adreno 540 is VR gaming, because the Adreno 540 will have the ability to push 2K and 4K display without much problem. Adreno 540 supports Vulkan 1.0, DirectX12 and Open GL ES 3.2
Samsung Exynos 8895 powered by Mali-G71MP20 GPU, it doubled core count to 20 and boosts to peak performance, 60% higher than the predecessor GPU. It supports Vulkan 1.0, DirectX11 and Open GL ES 3.2
The Mali-G71 running on ARM's new Bifrost microarchitecture, which moves from an SIMD ISA that relied on Instruction Level Parallelism (ILP) to a scalar ISA designed to take advantage of Thread Level Parallelism (TLP) like modern desktop GPU architectures from Nvidia and AMD. Well, its too complicated, not going to explain the difference in depth here, in short, this change allows better utilization of the shader cores, increasing throughput and performance.
Moreover, Qualcomm Snapdragon 835 has The Spectra ISP which support Qualcomm's Clear Sight technology for color and monochrome sensor combinations for better contrast and noise and Snapdragon Optical Zoom module, which as the name suggests brings 2x optical zoom capabilities and an improved 10x digital zoom to the platform. This technology works using a telephoto lens alongside a wide-angle lens.Spectra remains a 14-bit dual ISP setup that supports up to dual 16MP cameras or a single 32MP sensor. It is also integrated Electronics Image Stabilization (EIS) 3.0 and Dual Photodiode Auto-Focus (2PD) support into the module. EIS 3.0 provides more efficient gyro sensor sampling and smoothing algorithms, supports resolution up to 4K, and combines with heterogeneous compute capabilities for more power efficient video stabilization. 2PD allows for image sensors to feature phase detection diodes in every pixel, rather than just 5% of them, which greatly improves the speed and accuracy of PDAF.
On the other hand, Samsung Exynos 8895 Image Signal Processor (ISP) supports high resolutions up to 28MP for each rear and front camera with advanced features such as Smart WDR and PDAF and dual camera up to 28+16 MP. The Exynos 8895 features dual ISP with one ISP dedicated to high quality and the other dedicated to low power. Optical zoom is also possible by combining two lenses that have different focal lengths. In addition, with 2nd camera recognizing depth information, user can adjust focusing with depth of field after capturing a picture. Thus, it enables various combinations of dual camera scenarios for a DSLR-like photography experience while consuming very low power.

The Snapdragon 835 features a modem that supports "X16 LTE" speeds, which equates to an absolute maximum 1-gigabit 4G connection. You'll rarely find that sort of speed anywhere in the world, but that improved modem will also help with more reliable and efficient connections on slower 4G networks.



Exynos 8895 is the first mobile processor in the industry to integrate a gigabit LTE modem which supports 5CA(Carrier Aggregation) for downlink while Snapdragon 835 only supports 4CA. It supports downlink speeds of up to 1Gbps with 5CA and uplink speeds of up to 150Mbps with 2CA resulting in a faster and more stable mobile communication experience. Exynos 8895 delivers the speed and reliability to keep you connected with the help of advanced feature such as FD-MIMO and LBT for LAA.


Snapdragon 835 uses The Qualcomm® Hexagon™ 682 DSP. It is designed to significantly improve performance and battery life, and includes the Qualcomm All-Ways Aware™ sensor hub and Hexagon Vector extensions (HVX) which is capable of handling heavy imaging and video processing tasks quickly and efficiently.




Exynos 8895 features VPU (Vision Processing Unit) which is designed for machine vision technology. This technology improves the recognition of an item or its movements by analyzing the visual information coming through the camera. Furthermore, it enables advanced features such as corner detection that is frequently used in motion detection, image registration, video tracking and object recognition.


Qualcomm's Aqstic WCD9341 audio codec combined with the Snapdragon 835 supports an audiophile grade DAC with 32-bit/384kHz playback capabilities, complete with an SNR at 115dB and ultra-low -105dB THD+N. Those who prefer wireless playback will be pleased to note that the Snapdragon 835 continues to support Qualcomm's aptX and aptX HD. Furthermore, echo and background noise cancellation is handled efficiently on the DSP.
The Audio Codec of Exynos 8895 is unknown as the company didn't announce about it, since Samsung is working with Qualcomm for Snapdragon 835, Exynos 8895 may feature Qualcomm Aqstic Audio Codec, but this is just rumour.
Other than the new and improved CPU, DSP, and GPU cores, Qualcomm Snapdragon 835 support fast LPDDR4X random access memory in a dual 32-bit configuration with the same 1866 MHz clock speed. Moreover, flash memory support has been improved to UFS 2.1 as well as eMMC 5.1. UFS 2.1 is not faster than UFS 2.0, both peak at 1.2GBps transfer speeds, but the revision lowers power consumption and provides additional data security through the use of inline cryptography between the SoC and UFS Storage device.
Exynos 8895 also use LPDDR4X memory is up to 50% more power efficient compare to previous generation, while also delivering up to 50% more performance. Also, Exynos 8895 also support for eMMC 5.1 and UFS 2.1 which is same as Qualcomm Snapdragon 835.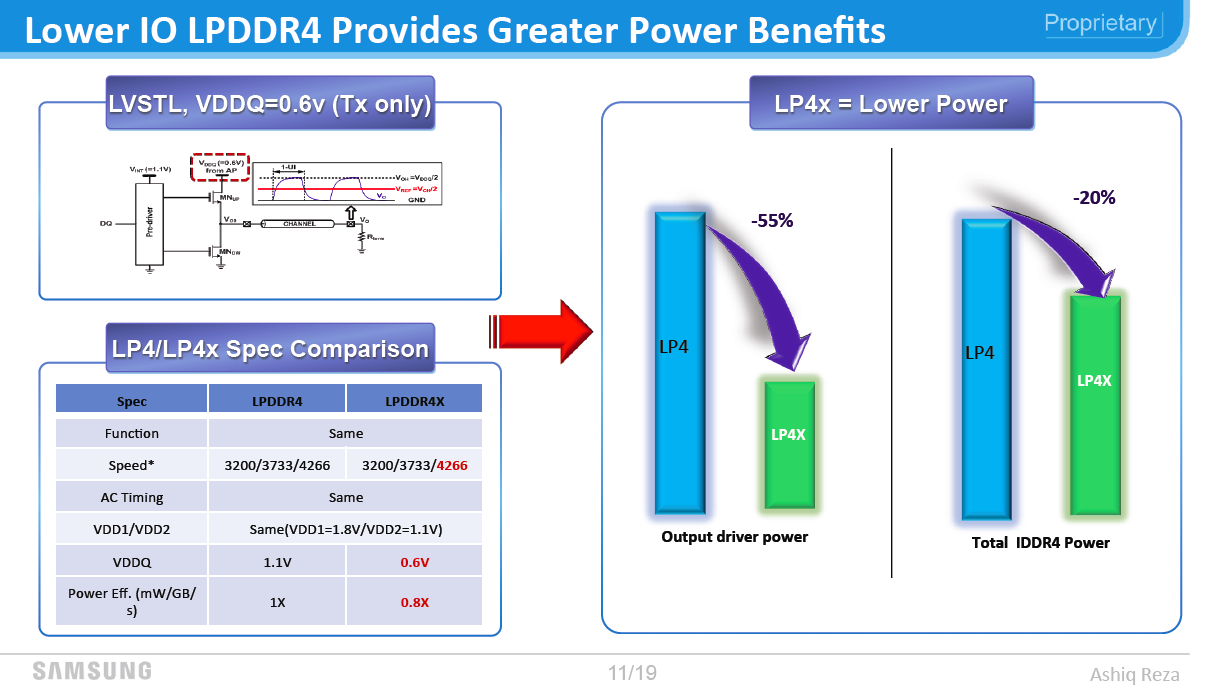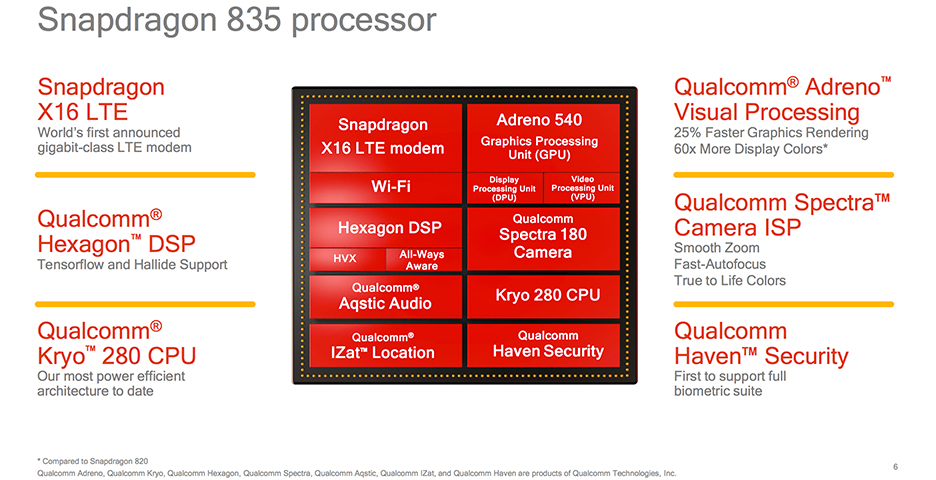 Qualcomm Snapdragon 835 has been used in many flagship device such as the Xiaomi Mi6. The Mi 6 is a performance beast powered by the lightning-fast Snapdragon 835 and a huge amount of 6GB RAM pushes the performance to maximum. The phone was a seven years milestone of Xiaomi Company to Manufacture and Design it. Xiaomi Mi6 also the first phone to feature world first 10 NM Processor in Mainland China Market The four-sided curved glass body and stainless steel frame house a gorgeous 5.15" display. Dual camera + Optical zoom supports Beautiful Potrait with the help of 4 axis OIS.
Exynos 8895 however only can be seen in Samsung Devices since this is their in-house SoCs. For example the Samsung Galaxy S8. It has two version, which featured different SoCs, Snapdragon 835 and Exynos 8895. Snapdragon 835 powered Samsung Galaxy S8 are sold in US, China and Japan only. The rest of the world, the Galaxy S8 are powered by Exynos 8895.
Consider the factors above, which one do you think is a good processor?
Which SoC do you prefer: Samsung Exynos 8895 or Qualcomm Snapdragon 835?
Thank You